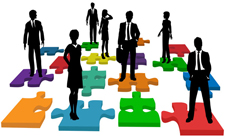 Businesses are about people and practices. Changing means, adapting to better people and practices. Every change brings in a search for new people and newer possibilities.
NUWAY CFR is a boutique executive search firm bringing unparalleled insights into Asian markets, head-quartered out of Singapore. With decades of experience in the financial services, banking and IT industries, and a distinctive focus on the Asian market, NUWAY CFR is uniquely positioned to identify and place the region's most sought-after executives with your organization.
We serve clients from all sectors, innovative start ups, family owned companies, global MNC, local corporations and non-profit organizations.
At NUWAY CFR, we create harmonious solutions for everybody based on the specialized understanding of : Clients Needs, Professionals Skill Set, Technical Domain & Talent Base available in the industry.